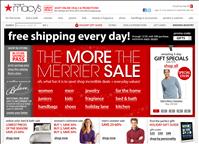 Macy's 3 Day Sale is going on this weekend
Digital News Report – You might not have had a chance to get everything you wanted at the Black Friday or Cyber Monday Sales, but you still can get a few good deals at Macy's 3-Day the More the Merrier Sale going on this Friday, Saturday, and Sunday. If you don't want to battle the crowds at the store, you can also shop online at Macy's website.
Here are some of the deals with the Macy's Sale this Weekend. Also you can get free shipping on orders over $99 (use coupon code: GIFTS during checkout) through December 20, 2010 unless otherwise stated. Don't forget to visit Macy's website and click on the online printable coupons to take to the store. You can get an extra 15 or 20 percent off of selected items at the store. Plus there is another set of coupons totaling $100 off. You can get $15 off a purchase of $50 or more on all sale and clearance items, apparel, select home items, Plus Fine & fashion, Jewelry and watches. These coupons are useable between December 9th through December 15, 2010.
Clothing on Sale
Women's Clothing
Macy's has a Cashmere sweater sale, if you buy 1 you save 30 percent, buy 2 you save 40 percent, buy three you save 50 percent. There are several cashmere sweater styles to choose from, plus there is also other sweaters 20 percent off. Winter jackets are 20 percent off on selected coats. Selected tops are 20 percent off. A selection of lingerie is 30 percent off. They have lots of pajamas and robes with huge discounts. Some activewear outfits, jeans and dresses are 20 percent off. Some of the apparel is marked more than the 20 percent off from the regular price, so you should be on the lookout for the extra bargains.
Men's Clothing
With men's clothing you can save between 25 – 65 percent off of regular price on shirts, jeans, polos, coats, shoes, suits, pants, sweaters, blazers, and underwear.
Kids Clothing
Kids clothing is also on sale with discounts between 25 – 75 percent in this department. They have a special Baby Girl Snowsuit with matching jacket for only $29.99.
Juniors Clothing
Juniors can enjoy a Buy one get one free on a selection of sweaters. You also get an extra 20 percent off on selected winter jackets. There are also discounts on hoodies and activewear, pajamas & robes, jackets & blazers, tops, jeans and jeggings, and dresses.
Jewelry
You can save 30 – 50 percent and get an extra 10 percent on certain items. They have rings, earrings, bracelets, necklaces, diamonds all on sale.
Home items including Bedding, Dinnerware, and Kitchen Appliances
Kitchen Appliances
Macy's is offering 40 percent off a selection Juicers and blenders. The sale prices range from $29.99 all the way up to $399.99. The Bella Cucina Rocket Blender with 12 pieces is on sale for $44.99. They have a Hamilton Beach Blender & Food Processor Combo for $70. You can get a Juiceman Juicer 2 speed for $110.
Dinnerware and Cookware Sets
Macy's has a 22 piece Wedgwood dinnerware set for $369.99. They have a 16-piece Fiesta dinnerware set for $105.99. There is a 12-piece Basic Starter Cookware set for only $29.99.
Bedding
You can get 20 percent off or more on comforters. Macy's also has several of Marthat Stewart bedding on sale from comforters to sheet sets. There is an Aubrey 14-piece Comforter Set for King and California King sized beds for only $79.99. There are savings of 25 – 60 percent off of bed and bath essentials.
Shoes
Boots and shoes are on sale between 25 – 50 percent off. You get an extra 25 percent off with the 3-day sale on top of the discounted prices.
Handbags
Macy's has a selection of handbags for only $39.99. There are discounts between 25 – 65 percent off on handbags. You can also find deals on hats, gloves and scarves in this department.
These are just a sampling of some of the sales items going on for this 3-day Macy's sale this weekend. If you are looking for something in particular you should check it out to see if they have a great sale price, plus remember to see if you can use the extra coupons. That way you can save even more money.
By Victoria Brown