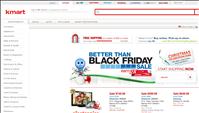 Kmart begins 3-Day "Better than Black Friday Sale"
Digital News Report – Kmart kicked off their 3-Day Sale today called the "Better than Black Friday" which is going on through Sunday. There are plenty of sales going on with Kmart, but they have some good deals on toys, furniture, bedding, kitchen appliances, clothing, and more. You get free shipping as well on orders over $49. You also get Double Rewards points with their store loyalty card. Here are some of the online deals that are available at Kmart's website.
Furniture
Kmart is offering a terrific deal on Cubical Storage unit Shelving. A 9 cube storage shelve is regularly priced at $59.99, but you get it online for only $34.99. You won't see the completed discounted price until you are at the final checkout steps. Plus you get free shipping. They also have a 6 cube storage shelves for $28.99. They come in either Espresso or White colors.
Fitness and Sporting Goods
Thinking about staying fit next year? Kmart is selling a Weslo Pursuit E 25 Exercise Bike for only $69.99 (reg. Price $99.99). For the game room you can get a 48 inch Foosball Table for only $49.99 (reg. Price $79.99).
Toys
Buy 2 Get 1 Free for selection of Littlest Pet Shop, Iron Man and Transformer Toys. You can get up to 20 percent off of Fisher-Price Power Wheels. Kmart is offering 20 percent off of Disney themed Toy Story 3 Toys. All the Barbie dolls are on sale, with dolls starting at $4.99. Zhu Zhu Pets are $6.99 (reg. Price $9.99) and accessories are 20 percent off.
Electronics
Kmart has a Canon Powershot 12.1 Megapixel digital camera for $99.99 (reg. Price $159.99). They also have HDTV televisions on sales and a Blu-ray player.
Shoes
Kmart is offering and extra 20 percent off of slippers for the entire family. They are also offering an extra 20 percent off on Kids Boots.
Clothing
Kmart is discounting their Joe Boxer branded sleepwear up to 50 percent off. You can get this deal at the stores as well as online. Infant and Toddler Girl Holiday dresses are on sale for only $11.99 (in stores and online). Women's puffer jackets and vests are an extra 10 percent off on top of any other discounted prices. All of Jaclyn Smith's apparel for women is 40 percent off.
Kitchen Appliances
You can get a Professional Stainless Steel 6 quart Roaster Oven for only $35.99 online. Kmart is also selling a Chef Pepin branded 6 quart oval slow cooker for $29.99. You can buy the Continental 20-cup Rice Cooker for $19.99.
Tools and Home Improvement
Kmart is selling a Yard-Man 8.5 amp Electric Snowblower for $139.99 which is $30 off of regular price. To help shovel the snow you can get a Suncast 20 inch Ergonomic snow shovel for $14.99. For the handyman you can purchase a 52 piece screwdriver set for $22.99 or a 10 piece pliers and wrench set for $10.99. You can also get a Diehard Battery Charger and Tester with an 80 Amp Engine Stare for $49.99.
These are just a sampling of some of Kmart's sale prices. They have some offers at both the stores and online, while other items are only online. There are many items on sale, and you can get free shipping with order over $49 when you enter the code KMFREESHIP49 during checkout at Kmart's website.
BY Victoria Brown
Follow the link to find the Current Sales at Department Stores and More