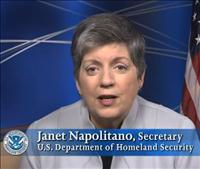 Walmart's Homeland Security PSA (watch below)
Digital News Report – Walmart shoppers will soon be watching a video at the store's checkout stands created by Homeland Security. The video has Secretary Napolitano of the US Department of Homeland Security asking shoppers to report anything suspicious either in the store or out in the parking.
Napolitano says in the video that "Homeland security begins with hometown security." She continues to say "If you see something suspicious, in the parking lot, or in the store, say something immediately. Report suspicious activity to your local police or sheriff. If you need help, ask a Walmart manager for assistance. Thank you for doing your part to help keep our hometowns safe."
This public service announcement is part of Homeland Security's "If you see something, say something" campaign. The New York City Metropolitan Transit Authority was partly funded with $13 million grant and were the first to implement this campaign.
The Mall of America in Minnesota has also joined in the Homeland Security campaign to keep citizens on patrol for suspected terrorists. The Transportation Security Administration (TSA) is also participating in the campaign at airports across the US.
By Victoria Brown
Walmart teams up with Homeland Security "If you see something, say something" campaign YouTube Video