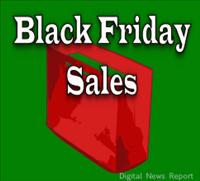 Digital News Report
Digital News Report – Best Buy has announced some of their Black Friday Sales for the holiday shopping season. Best Buy will be opening their stores at 5 am on Friday with some deals that can explain why people camp outside of the store to be the first buy the items.
The downfall on the Black Friday Deals to be had at Best Buy is that they limit the quantity available at each store for some of the items. But for good reason, the prices are really awesome for those few lucky people at each store that will get to save some serious cash.
Don't forget to watch for the Black Friday ads in the local newspapers for more deals that may be announced. You can also go to the retailer's websites to find out their specials. Check out what Best Buy announced in the lists below. They have a washer and dryer set with a savings of $1,000 off of regular price. You can get a Toshiba Laptop computer with a 15.6″ screen for $189.99. They have a Panasonic 50″ plasma HDTV for $699.99.
By Victoria Brown
Here is what Best Buy has announced so far for their Black Friday Sales:
Black Friday Sales on Electronics including HDTV, Video Game Consoles, Laptop Computers and Major Appliances:
Description
Sku and other information
Store limitations and quantities
avaialable
Black Friday Sale Price
Samsung 32" Class LCD HDTV and Nintendo Wii Console
Package
$327.99 TV + $169.99 Wii = $497.98 – $97.99 Package
Savings = $399.99
Limit 40 packages per store (Wii in various colors).
Limit 1 per customer. No rainchecks.
Black Friday Price $399.99
Toshiba – Satellite Laptop / AMD V-Series Processor /
15.6" Display / 3GB Memory / 320GB Hard Drive – Black
Model: C655D-S5089 | SKU: 1401694

Offer available Friday, in store only, 5-9
a.m.

Ticket required to purchase this item in
store.

Minimum 3 per store. Limit 1 per customer. No rainchecks.

Black Friday Sale

Price $189.99

Nintendo Wii Console (Black) with Wii Sports, Wii Sports
Resort and Wii Remote Plus

Model: RVLSKAAA | SKU: 1503558

Save $30

Ticket required to purchase this item in
store.

Minimum 15 per store. Limit 1 per customer. No rainchecks.

Black Friday Sale

Price $169.99

NOOK Wi-Fi eReader by Barnes & Noble

Model: BNRV100 | SKU: 1051213

Save $50

Ticket required to purchase this item in
store.

Minimum 10 per store. Limit 1 per customer. No rainchecks.

Black Friday Sale

Price $99.99

Samsung Fascinate Mobile Phone – Black

Model: SCH-i500 | SKU: 1200475

Save an additional $149.99

*$599.99 Phone – $350 Instant Savings =
$149.99 – $149.99

Additional Savings = FREE with New 2-Year Activation (new or upgrade
same price)

Ticket required to purchase this item in
store.

Minimum 10 per store. Limit 1 per customer. No rainchecks.

Price Free after savings and 2 year contract
Samsung Fascinate Mobile Phone – White

Model: SCH-i500 | SKU: 1451449

Save an additional $149.99

*$599.99 Phone – $350 Instant Savings =
$149.99 – $149.99

Additional Savings = FREE with New 2-Year Activation (new or upgrade
same price)

Ticket required to purchase this item in
store.

Minimum 10 per store. Limit 1 per customer. No rainchecks.

Price Free after savings and 2 year contract
Panasonic – VIERA / 50" Class / 1080p / 600Hz / Plasma
HDTV

Model: TC-P50U2 | SKU: 9887422

Save $300

Ticket required to purchase this item in
store.

Minimum 8 per store. Limited to warehouse quantities. No rainchecks.

Black Friday Sale Price: $699.99
LG Laundry Front load Washer and matching Dryer Pair
(Pedestals not included)

Model: WM2301HR & DLE2301R | SKU: 9283232
& 9283241

Save $1,000

(Delivery date or in-store pickup date will be scheduled at the
time of purchase. Delivery costs are extra.)

Offer available in store only. Ticket
required to purchase this item in store.

$999.99 Washer + $999.99 Dryer = $1,999.98
– $1,000 Package Savings = $999.98 Pair

Minimum 5 pairs available for purchase per store. Limit 1 per
customer. No rainchecks.

Black Friday Sale

Price: $999.98

Insignia™ – 10.0-Megapixel Digital Camera

Model: NS-DSC1110A Silver | SKU: 9720275

Save $20

(Best Buy Exclusive)

Ticket required to purchase this item in
store.

Minimum 10 per store. Limit 1 per customer. No rainchecks.

Black Friday Sale

Price: $59.99

Sony VAIO Laptop with 3GB Memory, 320GB Hard Drive and
Intel Pentium Dual-Core Processor
Model: VPCEB3AFM/WI | SKU: 1248896

Ticket required to purchase this item in
store.

Minimum 10 per store. Limit 1 per customer. No rainchecks.

Black Friday Sale Price: $399.99
Sony VAIO Laptop with Built-In Blu-Ray Player , "The
Karate Kid" Blu-ray Disc, Laptop Bag & Antivirus Software Package

SKU: 9999142800050015

Save $239.97

629.99 Laptop + $24.99 Movie + $44.99 Bag + $39.99 Antivirus =
$739.96 – $239.97 Package Savings = $499.99

Ticket required to purchase this item in
store.

In store offer varies.

Minimum 10 laptop packages per store. Limit 1 per customer. No
rainchecks. Products must be purchased on same receipt to receive
package savings.

Black Friday Sale

Price $499.99

Toshiba – Blu-ray Disc Player

Model: BDX1100 | SKU: 1400058

Save $40

Offer available in store only. Ticket
required to purchase this item in store.

Minimum 15 per store. Limit 1 per customer. No rainchecks.

Black Friday Sale

Price: $59.99
Black Friday Sales on Video Games for Playstation 3 and Xbox 360
Video Game Title
Sku number and Savings
Quantities available at each store
and limits
Black Friday Sale Price
Madden NFL 11 – Xbox 360

SKU: 9791614

Save $25

Minimum 10 per store. Limit 1 per customer. No
rainchecks.
Price: $34.99
Madden NFL 11 – PlayStation 3

SKU: 9791669

Save $25

Minimum 10 per store. Limit 1 per customer. No
rainchecks.
Price: $34.99
NHL 11 – Xbox 360

SKU: 9949037

Save $25

Minimum 10 per store. Limit 1 per customer. No
rainchecks.
Price: $34.99
NHL 11 – PlayStation 3

SKU: 9949134

Save $25

Minimum 10 per store. Limit 1 per customer. No
rainchecks.
Price $34.99
NCAA Football 11 – Xbox 360

SKU: 9791723

Save $25

Minimum 10 per store. Limit 1 per customer. No
rainchecks.
Price $34.99
NCAA Football 11 – PlayStation 3

SKU: 9791732

Save $25

Minimum 10 per store. Limit 1 per customer. No
rainchecks.
Price $34.99
FIFA Soccer 11 – PlayStation 3

SKU: 1011252

Save $25

Minimum 10 per store. Limit 1 per customer. No
rainchecks.
Price: $34.99
Need for Speed: Hot Pursuit Limited Edition – Xbox 360

SKU: 1032361

Save $25

Minimum 10 per store. Limit 1 per customer. No
rainchecks.
Price: $34.99
Need for Speed: Hot Pursuit Limited Edition –
PlayStation 3

SKU: 1032403

Save $25

Minimum 10 per store. Limit 1 per customer. No
rainchecks.
Price: $34.99
The Sims 3 – Xbox 360

SKU: 1012721

Save $25

Minimum 10 per store. Limit 1 per customer. No
rainchecks.
Price: $34.99
The Sims 3 – PlayStation 3

SKU: 1012136

Save $25

Minimum 10 per store. Limit 1 per customer. No
rainchecks.
Price: $34.99
Medal Of Honor – Xbox 360

SKU: 9936089

Save $25

Minimum 10 per store. Limit 1 per customer. No
rainchecks.
Price: $34.99
Medal Of Honor – PlayStation 3

SKU: 9936052

Save $25

Minimum 10 per store. Limit 1 per customer. No
rainchecks.
Price: $34.99
EA SPORTS MMA – Xbox 360

SKU: 9953959

Save $25

Minimum 10 per store. Limit 1 per customer. No
rainchecks.
Price: $34.99
EA SPORTS MMA – PlayStation 3

SKU: 9953922

Save $25

Minimum 10 per store. Limit 1 per customer. No
rainchecks.
Price: $34.99
Black Friday Sales on Bluray and DVD movies and TV Shows
Video Title
Sku
Quantities and limits per store
Black Friday Sale Price
Prince of Persia: The Sands of Time – Blu-ray Disc
SKU: 1182023
Minimum 10 per store. Limit 1 per customer. No
rainchecks.
$9.99
Predators – Blu-ray Disc Plus Digital Copy
SKU: 1253537
Minimum 10 per store. Limit 1 per customer. No
rainchecks.
$9.99
Predators – DVD
SKU: 1253625
Minimum 10 per store. Limit 1 per customer. No
rainchecks.
$9.99
Saving Private Ryan – Blu-ray Disc
SKU: 9994891
Minimum 10 per store. Limit 1 per customer. No
rainchecks.
$9.99
Smallville: The Complete First Season – DVD
SKU: 5727939
Minimum 10 per store. Limit 1 per customer. No
rainchecks
$9.99
Smallville: The Complete Second Season – DVD
SKU: 6358639
Minimum 10 per store. Limit 1 per customer. No
rainchecks
$9.99
Smallville: The Complete Third Season – DVD
SKU: 6880057
Minimum 10 per store. Limit 1 per customer. No
rainchecks
$9.99
Smallville: The Complete Fourth Season – DVD
SKU: 7276119
Minimum 10 per store. Limit 1 per customer. No
rainchecks
$9.99
Smallville: The Complete Fifth Season – DVD
SKU: 7911423
Minimum 10 per store. Limit 1 per customer. No
rainchecks
$9.99
Smallville: The Complete Sixth Season – DVD
SKU: 8447914
Minimum 10 per store. Limit 1 per customer. No
rainchecks.
$9.99
Smallville: The Complete Seventh Season – DVD
SKU: 8955473
Minimum 10 per store. Limit 1 per customer. No
rainchecks.
$9.99
Smallville: The Complete Eighth Season – DVD
SKU: 9426445
Minimum 10 per store. Limit 1 per customer. No
rainchecks.
$9.99
Smallville: The Complete Ninth Season – DVD
SKU: 1155509
Minimum 10 per store. Limit 1 per customer. No
rainchecks.
$9.99