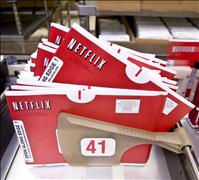 photo courtesy Netflix
Digital News Report – Netflix has some good news and some bad news. First the good news, Netflix has an Streaming Video rental plan only without the DVD's mailed to you and it is $7.99 per month. You can watch unlimited movies & TV shows on their "Watch Instantly" section of their rentals. Now the bad news, the current $8.99 plan that includes unlimited DVD mailed one at a time and access to the "Watch Instantly" section is going to be $9.99 for new subscribers. In January the price will go up for existing members to the new rates in January.
If you love the current releases you can get more than one movie at a time. If you haven't signed up with Netflix before they give you your first month free to try it out. If you like it you are on your way to having more movies on demand.
In order to enjoy the Netflix streaming video rentals you need to have an Internet speed at least at a DSL connection. The faster the better. If you want to get it on your television you can use many different brands of BluRay players with Internet connection, video game consoles, and the Roku set top box are just a few ways to get Netflix streaming video to your television.
There are other subscription plans available. Here are a few other options and the new rates.
2 DVDs mailed out at a time is $14.99 per month.
3 DVDs mailed out at a time is $19.99 per month.
4 DVDs mailed out at a time is $27.99 per month.
1 DVD out at a time without streaming video service is $4.99 per month.