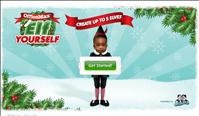 elfyourself.com website
Digital News Report – Tis the season to be jolly and Office Max has returned another year with the popular JibJab's Elf Yourself website along with a new Elfmas Town on Facebook. These are both fun ways to get jolly for the holidays.
On Elfyourself.com you can upload up to 5 of your favorite photos of friends and family and have them dance to a holiday tune. You can also purchase keepsake mugs and photos that you can give out as christmas gifts. There are plenty of chances to chuckle as you watch your family bust a move.
Office Max's Elfmas Town is new this year and is on Facebook. You can easily be redirected to the Facebook App page by going to ElfmasTown.com. Once you log into Facebook you will have to join the app and then you can play games and earn rewards. They have such games as "Bouncing Thru The Snow" to "Reindeer on Ice" to "Kittens in Mittens" for you to play. They also have Holiday Grab Bag which gives you a chance to win Office Max gifts such as digital cameras and gift cards. But there are some perks to playing around with the Facebook activities. You will earn Rubber Bands that can be turned into Santa's Workshop which can be turned into real coupons for shopping at Office Max stores. Plus the Rubber Bands also can win you daily prizes of things such as desk accessories, electronics, furniture and more.
It's time to gear up for the holidays because Black Friday Deals are only two weeks away.
By Victoria Brown