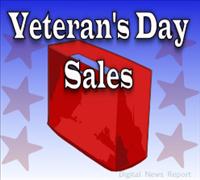 Digital News Report
Digital News Report – Every time a holiday rolls around you should be on the lookout for special sales events if you are looking to save money. Macy's, JC Penney, Sears, and other retailers are having Veteran's Day Sales going on anywhere from 2 days to the whole 4 day weekend. Here are just a few of the sales going on this holiday.
Macy's has a Kitchen Aid stand mixer that regulary sells for $299 and was at $249 selling for $179 after a $20 mail in rebate. There are several different cookware, knifes, and small appliances on sale. They have winter outerwear on sale, with a man's jacket for $49.99 and several women's jacket for starting at $79.99. Women's boots are on sale at Macy's with many discounted styles starting at $39.99. Men's clothing is on sale and if you are looking for a suit, this might be the time to check it out at Macy's. They are selling suits starting at $199 and sports jackets starting at $99. They also have a wide selection of men's shoes on sale to go with the suits. Macy's also has bedding on sales as well, with many offers for free shipping if you are ordering online. Also Macy's online is offering an extra 10 to 25 percent off on clearance items, they will mention which ones and how much when you browse. You need to enter the Macy's discount coupon code VETSDAY when checking out to get the extra bargain.
Sears is advertising a 3-day Veteran's Day Sale with Black Friday pricing in mind. Sears is also selling winter jackets starting as low as $12 up to $79.99. Boots are also on sale for women and kids with prices ranging from $17.99 to $69.99. They are offering a total of 65% off the regular price on clearance clothing which is an extra 30 percent more than usual. They have a 4 piece comforter set for $29.99 and it includes all sizes including king beds. They have a sapphire or diamond ring selling for $59.99. Sears discounted their Toshiba 40 inch HDTV LCD television down to $499.99 for a $100 discounted price. If you order online, shipping is free for orders over $99, but you have to use the Sears Coupon Code SANTA to get the free shipping offer.
JCPenney's Veteran's Day Sale is offering free shipping to store pickups and you can have delivered to your home for free for orders over $69. To get the free shipping at JCPenney's website you have to enter the promotional code of 4HOLIDAY to get the deal. JC Penney is offer sale pricing throughout the store.
These are just a sampling of sales from department stores. If you have a favorite store that you like to shop at check out what their sale is and compare. If you look around a little bit before you buy you will very likely find the best deal at the right price.
By: Victoria Brown