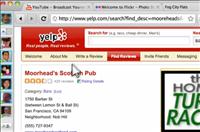 see the demonstration video below
Digital News Report – There seems to be new web browsers showing up more and more these days. A new Internet browser is currently in beta testing mode and is called RockMelt. The new browser incorporates social networking features on the left side of your friends that will allow you to share your browsing and thoughts with a click of a button. There is a handy search window on the right side of the screen all while you are able to continue to browse in another window pane.
It is not to often that you go, hmmm, they have something here. From the demonstration video of the RockMelt web browser you can see the creators of the software spent some time configuring it to be a productive. It could really benefit in a workplace environment and also work well for those social networking junkies.
The hurdles that RockMelt will very likely face is the privacy issues. How much will they collect of your personal information and how will they make money with the browser?
Check out the RockMelt YouTube video below demonstrating the software. You can go to rockmelt.com and sign up with their Facebook page to get a chance to beta test their browser before it is released.
By: Victoria Brown
RockMelt Web Browser Demonstration YouTube Video