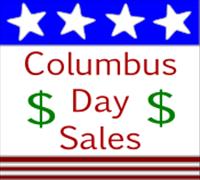 Digital News Report
Digital News Report – Not everyone has the day off, but many do today and there are several department stores and retailers offering special Columbus Day sales to save money. Here is an overview of some of the great deals to be had today.
Macy's department store has something on special from each part of their store. They have a food processor that is 40 percent off and is available both online and at their stores. You can get a bed in a bag for $149 which regular price is between $400 – $450. They have women jeans with a buy one and get one free and also a bogo for men dress shirts. They also have bras on sale for $17.99 which are discounted from regular price of $29 – $34. In addition to this the store has discounts throughout their store from 20 percent to 75 percent off. You can also get an additional 25 percent off of their online clearance shopping.
Sears Columbus Day Sale has 20 percent off of energy star qualified appliances. They also have 50 percent off of mattresses and foundations. You can save on winter and fall jackets with 50 to 60 percent off of select outerwear. They have athletic toning shoes on sale for up to 50 percent discounted. They also have a bed in a bag offer for only $31.99.
JcPenney has their Columbus Day Sale with a focus on outerwear jackets on sale. If you order online today you can get free shipping on any shoe purchase. They also have $4.99 shipping on all other orders when you use enter the code "DISCOVER" through October 12th during their checkout process. They have sale items in all of their different departments.
Best Buy is offering free shipping this Sunday and Monday online plus many electronics are on sale special for the Columbus Day holiday weekend.
Kmart is offering free shipping on orders over $60. Plus they have an extra 5 percent and 10 percent off at their website for the Columbus Day Sale.
These are just a few of the sales going on today. If you don't have time to make it to the stores today, you might find a great deal online as well.
By: Victoria Brown