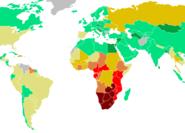 Infections per country at the end of 2005
Digital News Report – New research indicates that the virus that causes AIDS has infected monkeys for least 32,000 years. The epidemic, which started in the 1980s, has spread worldwide and the Human Immunodeficiency Virus (HIV) has infected 33 million people.
Humans may have been exposed and even infected before the late 1970s, but the virus did not become an epidemic until later. Human butchers could have been exposed to the monkey's blood.
The journal Science published a report this month concerning the origins of the disease. It is believed that the Simian immunodeficiency virus (SIV) dates back 32,000 years on Bioko Island located off the west coast of Africa.
So why didn't humans get infected before? The New York Times published a report indicating humans were at risk. Previous research indicates that SIV could have jumped to humans in the 1800s.
It wasn't until modern cities populated Africa and the frequent use of cheap hypodermic needles that HIV exploded in the human population.
The new Science journal research suggests that humans could have been infected 32,000 years ago or when humans began eating monkeys infected with the virus.
By: Tim Edwards