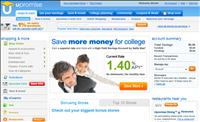 screenshot of Upromise.com website
Digital News Report – Coupons clippers should consider another way to save money. Upromise is a free to sign up program that helps families save for a child's college education. You sign up for free at upromise.com and there are several ways to earn money for your child's education through this program. If you are a college graduate and have student loans to pay off you can also use Upromise to help pay off your education debt.
You can earn cash back when you shop online starting with the upromise.com website. You log into your free account and find the deal you are looking for and when you make the purchase you can earn anywhere from 1% to 25% depending on the offer by each company.
You can earn Upromise money by eating at participating restaurants. You can register you credit card at upromise.com to earn extra earnings from you retail shopping and eating out when you are using that credit card.
You can earn Upromise rebates by buying items at the grocery store or drug store. They have electronic coupons that you load onto the participating grocery or drug store loyalty cards. You then load the coupons on that you want to use. When you purchase the item then you will earn money to go towards your upromise.com account when you have the loyalty card swiped during the transaction.
You can also ask your family and friends to help out. They can sign up and help out by participating in the Upromise program.
Everytime you go shopping you would want to check out the deals that are being offered from the stores that you are considering buying from. You can then decide which is offering the best deal for you and you can earn the cash to help pay for college.
Signing up can be a little time consuming and you initially will be offered signup offers that you don't need. But once you get past these screens you will see that the saving are very accessible and chances are you will be able to find your favorite stores and more to buy from.