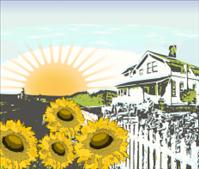 Digital News Report
Digital News Report – The US Department of Housing and Urban Development (HUD) along with the US Department of Treasury announced the results for the Obama Administration's Housing Scorecard September 2010 report for the month of August. The report looks at the housing market which includes mortgage loan refinancing and home loan modification information for that month. In August, there was over 33,000 homeowners who have receive a permanent home loan modification through the government run Home Affordable Mortgage Program (HAMP).
There are now over 468,000 homeowners that have received the permanent home loan modifications through HAMP. Over 3.35 million homeowners that have initiated a home loan modification since April of 2009. In the government loan modification program, a person applies for the program and is put on a trial period. After all the necessary paperwork is received, and the person has made their trial payments on time, the mortgage loan modification becomes permanent.
The report said that the servicers are working on a backlog of home loan modifications, but are expecting to catch up in the next couple of months. Struggling homeowners apply for the program to lower their monthly mortgage payment with their existing lender. They work with their lender to either lower the interest rate, extend the term of the loan, or establish an earned principal forgiveness to lower the amount of the loan itself.
On average, the August Housing Scorecard said that HAMP modifications have reduced homeowners monthly mortgage payment on average 36 percent or over $500 per month. The goal of HAMP is to reduce the monthly mortgage payment to be under 31 percent of the homeowners total household income.
To read more about the housing scorecard please visit www.hud.gov/scorecard. To learn more about the eligibility and application process for the free home loan modification program please visit makinghomeaffordable.gov.
By: Victoria Brown