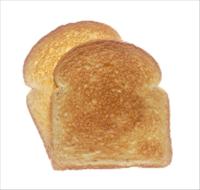 photo credit: National Cancer Institute
Digital News Report – Campbell Soup Company announced that they will be reducing the sodium content in 80 percent of Pepperidge Farms Breads by February 2011. They have committed to lowering the salt in 69 varieties of their Pepperidge Farm by early next year with 25 percent lower sodium content compared to regular breads. This has been an ongoing commitment by the company to reduce sodium content in their bread.
Reducing the sodium while maintain a tasty product has been an accomplishment that the Campbell Soup Company's President and Chief Executive Officer, Douglas R. Conant, said in a statement that, "We pride ourselves on our industry-leading efforts to lower sodium while ensuring great taste and quality, and we will continue to seek ways to reduce sodium across our portfolio of baked snacks, healthy beverages and simple meals."
In addition to lowering the sodium of their Pepperidge Farm breads, over 40 of their breads meets the FDA's standard for providing a good or excellent source of fiber with at least one-half a service of whole grains in each slice of bread. The American Heart Association has also certified almost two dozen of their breads which will display the logo of the American Heart Association on its packaging.
The Campell Soup Company has also been lowering salt content in other brands such as in their soups and their entire line of V8 juices, Prego brand Italian sauces, and also SpaghettiO's brand canned pasta meals. Altogether, the Campbell Soup Company has reduced sodium content in over 200 of their products compared to five years ago when they only had 25 lower sodium food products.
By: Victoria Brown