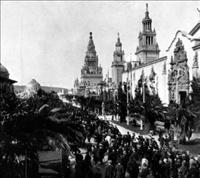 1915 San Francisco World Fair Expo Photo – NPS.gov
Digital News Report – The Bay Area Council President, CEO Jim Wunderman, along with Governor Arnold Schwarzenegger announced a bid to host the 2020 World Expo in Silicon Valley. The announcement was made at the World Expo in Shanghai, China. The World Expo can attract as many as 70 million visitors and is held every five years.
The proposed location they are suggesting for the 2020 World Expo is Moffett Field which is located next to the San Francisco Bay. It has been a long time since the United States hosted a World Expo. The last time was in 1984 in New Orleans, Louisiana.
Schwarzenegger said Silicon Valley would benefit from having the 2020 World Expo come to the area because it would help create jobs and increase revenues in California. The World Expo events can help create tens of thousands or possibly hundreds of jobs in the location where it is held. Shanghai was host to this year's World Expo and they had built around $40 billion worth of transportation including roads, subways, and airport terminals to accommodate the event.
The formal application for California's bid to host the World Expo 2020 will happen sometime in 2011. The application is submitted to the Bureau of International Expositions (BIE) who decides the event locations. BIE is anticipated to announce the winning bid for hosting the event sometime during the end of 2012.
By: Victoria Brown