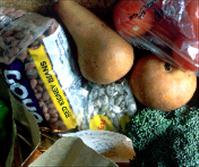 National Cancer Institute – Bill Branson (photographer)
Digital News Report – It seems like prices for groceries keep increasing slightly. There are some items that give you less for the same amount of money. In the end you find that your monthly grocery expenses have increased. Here are a few ideas to help to cut down on your grocery expenses without starving yourself.
Use grocery coupons to save money on the items that you regularly buy. Making a grocery shopping list of items that you need to get, then going online and looking for free grocery coupons can add up to savings for your next shopping trip. If you don't need the item immediately, you can have a want list and watch for the item to go on sale at your favorite grocery store and then find a coupon to use with it to save even more money.
Don't go shopping when you are hungry. When you are hungry and you are walking up and down the isles of the prepackaged foods, you will want to buy it even more than if you are not hungry. So eat a healthy meal before you go to the grocery store.
Reduce the number of times that you go to the grocery store. Every time you step into the grocery store you increase the chances of buying more than you thought you would. The longer you shop the more you buy. So if you want to save money, make a shopping list and stick to that list, buying only the items on the list and in a timely manner.
Buy fruit and vegetables when the are in peak season. Not only will you save money on the produce, you will usually get the best tasting produce as well. Get to know when each fruit or vegetable will come into season and try to plan your shopping trips accordingly.
Sometimes going generic or buying the store brands can be cheaper than your favorite name brand product. If you hate using coupons this might be the easier way to save money on your groceries.
Buy dried beans instead of the canned ones. Eat less meat and eat more rice and beans. You can also add bread crumbs and and egg to your hamburger meat to make the ground beef go farther. You can also eat less expensive meals such as having breakfast for dinner. You can also make peanut butter and jelly sandwiches for lunch which can be a relatively inexpensive option.
Consider buying items in bulk. Sometimes things have a long shelf life. If they do you can usually save money when you purchase the larger packaging of the same thing. Bring a calculator with you on your shopping trip and compare the costs to find the least expensive items. Most stores will do the math for you, but sometimes they don't compare the same unit of measure making it necessary to use a calculator to find a comparable number.
Stop buying junk food and soda. These extra items can add up quickly over a months time. Not only will this save you money, it could also help you to lose some extra weight.
By: Victoria Brown