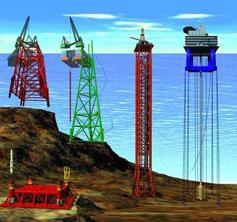 Several Types of Platforms
Digital News Report – Mariner Energy, Inc. (Public, NYSE:ME) stocks fell Thursday after their Vermilion Block 380 oil platform caught fire. Initial reports suggested that there was an explosion on the rig, but the company only says "fire".
The share price was down $0.60 (-2.57%) to $22.75. In a second statement the company said that there were no injuries and the 13 crew members were taken to local hospitals.
The Vermilion Block 380 rig is located in shallow water (450 feet) about 100 miles from the Louisiana coast. It produces approximately 9,200,000 cu ft (261,000 m3) of natural gas and 58,800 US gal (223,000 l) of oil a day
The cause of the fire is still unknown. The safeguards to prevent oil leaking into the water were automatically activated and it appears that no oil from the seven wells flowed into the Gulf.
By: Tina Brown