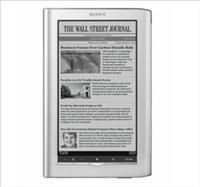 Sony Reader Daily Edition PRS-950 – Sony
Digital News Report – Sony announced three new ebook readers today; the Reader Pocket Edition, Reader Touch Edition, and the wireless Reader Daily Edition. They will range in price from $179 to $299. The new Sony eBook Readers have aluminum casings and they have highly responsive touchscreens in all of the new models. The new eReader models from Sony are smaller and lighter weight.
All three of the new Sony ebook readers will have touch screen support. The optical touch screen technology helps to make it interactive with page turns for the person.
The E Ink Pearl electronic paper displays have a 16 level grayscale which help to make the text and images crisp. The E Ink makes it easy to read when you are outside in direct sunlight.
Sony Reader Pocket Edition (PRS-350) Features:
5-inch display
Touch screen
Case comes in colors – silver and pink
2 GB onboard memory
Stores up to 1,200 books
Currently available
MSRP $179
Sony Reader Touch Edition (PRS-650) Features:
6-inch display
Touch Screen
2 GB onboard memory
Dual Expansion slots up supports up to 32 GB additional memory
Can Play MP3 and AAC audio files
Comes in Colors Black or Red
Currently available
MSRP $229
Sony Reader Daily Edition (PRS-950) Features
7-inch display
Touch Screen
Wi-Fi connection
Basic web browsing using Wi-Fi
Wireless AT&T 3G network connection to Sony's Reader Store
2GB memory
Expansion slots supports up to 32 GB additional memory
Colors – Silver
Expected to be available in time for the Holidays
MSRP $299

All of the new Sony eBook readers will have a new feature to read PDF or personal documents. You can zoom, change brightness and contrast, and a multiple page creation to make a full sized document easier to read on a smaller screen are some of ways to read the documents. Users can customize their screen saver to their favorite photos and they can also organize their books into groups.

The new readers have built in New Oxford American Dictionary Second Edition and the Oxford Dictionary of English eDictionaries plus there are 10 translation dictionaries in languages such as French, German, Spanish, Italian and Dutch. If you are looking to expand your vocabulary or want to look up words as you read you can create "word logs" that will track what you looked up during your reading.

The new Reader Pocket Edition and the new Reader Touch Edition is now available. The Reader Daily Edition is planned to be available in time for the holiday shopping season.

By: Victoria Brown