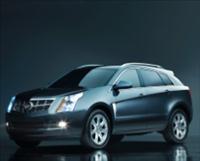 Cadillac SRX 2011 – GM
Digital News Report – GM announced that new car sales of the Cadillac brand increased 83 percent in August from the same month one year ago. This has been the seventh month in a row that Cadillac has seen an increase of total sales. In August there was a total of 12,689 Cadillac vehicles sold.
According to GM, the Cadillac brand gained 2 percentage points of the US luxury vehicles market share through July. The company is expecting that it will again gain more market share from August sales.
The Cadillac SRX retail sales increased 410 percent. This mid-size luxury model has introduced a redesign for the 2010 model and has seen the 12th straight month of increased sales.
The CTS sales increase 61 percent. The arrival of the new 2011 CTS Coupe model has helped in sales. There is also the CTS Sport Sedan and the CTS Sport Wagon models.
The Cadillac Escalade increased by 15 percent from the same month last year.
By: Victoria Brown