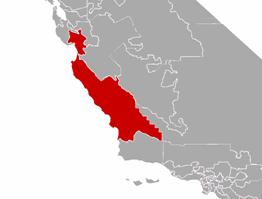 Digital News Report
Digital News Report – There will be a special general election on August 17th for the California 15th Senate District. The district meanders through part of Santa Cruz and Silicon Valley and includes the coastal region through Monterey, San Louis Obispo and part of Santa Barbara County.
There are four candidates for the seat left vacant by Republican Abel Maldonado of Santa Maria. Maldonado resigned the seat to run for Lieutenant Governor of California.
Here are the candidates:
1) John Laird would like to change the way California works with business. He is also a strong proponent for green energy.   John Laird Website
2) Sam Blakeslee (Republican) is focused on the state budget and unemployment. He is the Assemblyman from San Louis Obispo. Sam Blakeslee Website
3) Mark Hinkle (Libertarian) bills himself as a fiscal conservative and a social liberal. He is a strong believer in property rights and liberty.  Mark Hinkle Website
4) Jim Fitzgerald is against offshore drilling, wasteful spending and increasing taxes. He is a retired UPS account manager from Nipomo.  Jim Fitzerald Website
We provided links above so you can investigate the candidates further.
By: Mark Williams