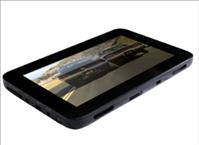 Velocity Micro The Cruz Tablet
Digital News Report – Borders announced their Aluratek Libre eBook reader will now be selling for $99 on September 1st and the Kobo ebook reader also got a $20 price reduction and will now be selling for $129. These lower price options are being offered because Amazon Kindle recently got reduced prices. These price reductions have been an ongoing ebook pricing war that started this summer. In addition to the price reductions, Borders will be adding more electronic reading devices that they will support, including the Velocity Micro Android-based Cruz Reader R101 and the Cruz Tablet T103. These new devices from Velocity Micro can be pre-ordered from the Borders website.
The Aluratek Libre eBook reader will be available to buy online and will be in retail Borders book stores some time this week. The Kobo eReader is currently available at their retail stores as well as at their online store.
The Cruz devices have a 7-inch full-color touch-screen display which will allow for more than just reading. You will be also able to watch videos, play music, and browse the Internet.
The Cruz Reader comes with a docking station that can make it a media hub or a digital picture frame. The Cruz Tablet has an optional docking station. There is an SD memory card slot that will make it easy to store your files and share them with your other computers. Both of the Cruz devices come with Borders eBookstore reader application and over 100 digital books already installed on them. There are thousand of free titles and over 1.5 million titles to buy from Borders digital bookstore.
Borders is accepting pre-orders for the Velocity Micro Cruz Reader and Cruz Tablet at the http://www.borders.com/online/store/MediaView_ereaders website.
Cruz Reader R101 Retailing at Borders for $199.99 Available on September 30, 2010
Cruz Tablet T103 Retailing at Borders for $299.99 Available on October 15, 2010
Velocity Micro Cruz Reader R101 Features and Specifications:
7″ Diagonal measure Full Color with Resistive Touch Screen
Android Operating System
Measures 7.5″ x 5.6″ x .57″ Inches
Weighs 1 pound
Memory: 256 MB RAM
Storage: 256 MB Internal, 4 GB SD
Accelerometer – Rotate the screen and change from portrait to landscape
Docking Station
User–Changeable Li–Ion Battery
Supports Audio (MP3, AAC, WAV),Video (MPEG–4), and Images(JPEG, GIF, PNG, BMP)
USB Connection Port
Wi-Fi connection
1 Year Warranty for Parts and Labor
Velocity Micro The Cruz Tablet T103 Features and Specifications:
7″ Diagonal measure Full Color with Capacitive Touch Screen
Android Operating System
Measures 7.5″ x 4.75″ x .6″ Inches
Weighs 1 pound
Memory: 512 MB RAM
Storage: 4 GB Internal, 8 GB SD
Accelerometer – Rotate the screen and change from portrait to landscape
User–Changeable Li–Ion Battery
Carrying Pouch
lightning fast 802.11n Wi-Fi
Supports Audio (MP3, AAC, WAV),Video (MPEG–4), and Images(JPEG, GIF, PNG, BMP)
1 Year Warranty for Parts and Labor