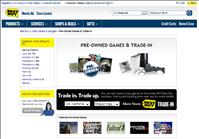 www.bestbuy.com/gametradein website
Digital News Report – Best Buy is launching their in-store Video Game Trade-In program this Sunday, August 29th. To get everyone to dust of their old games and bring them into Best Buy, they are giving an extra $20 Best Buy Gift Card on top of the trade-in value on over 100 popular titles. That means that some games probably won't qualify for the extra gift card bonus. These new in-store Video Game Trade-In program is being made available at over 600 of Best Buys retail stores nationwide.
The Video Game Trade-In program will either be available at a Trade-In desk at the gaming department or at the store's main Customer Service desk. If you don't have access to their in-store trade-in program you can still send you video games via their online service at BestBuy.com.
You can also purchase previously owned used video games at Best Buy stores. When you trade-in your video games, Best Buy issued store-credit so you can buy anything you want in the store, included more video games, new or used.
To find out more about the participating Best Buy stores and more information about the video game trade-in program for used games you can visit www.bestbuy.com/gametradein.
By: Victoria Brown