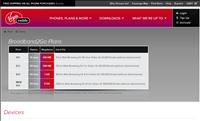 http://www.virginmobileusa.com/mobile-broadband
Digital News Report – Virgin Mobile announced that they have added an unlimited data transfer to their Broadband2Go service starting at $40 for a 30 day time period. This pay as you go wireless internet service used to cap off the transfer rates, but with the new $40 Broadband2Go plan you will get unlimited data transfer. This service is great for those that want to use their computers online at home and on the go or if they have limited options for service in their area. This new $40 unlimited mobile broadband Internet service plan replaces their $20 and $60 plans. There still will be a $10 option for 100 MB of data transfer that lasts 10 days from the date of purchase.
Consumers that already purchased still can use the allocated times and data transfers set forth when they purchased it. The new $40 unlimited data plan will be available at Virgin Mobile's online store on August 25, 2010 and then at retail outlets nationwide.
There are two devices that work with Virgin Mobiles Broadband2go wireless broadband Internet service. The Ovation™ MC760 is an USB device that connects to a single personal computer or laptop which retails for $79.99. The MiFi® 2200 is a prepaid Mobile Intelligent Hotspot which allows for up to five users to connect via Wi-Fi wireless connection. The MiFi 2200 retails for $149.99. The Virgin Mobile compatible connection equipment is available at Best Buy, RadioShack , Sprint Stores, Virgin Mobile and Boost Mobile stores, Walmart and online at BestBuy.com, Target.com, Walmart.com and VirginMobileUSA.com.
By: Victoria Brown