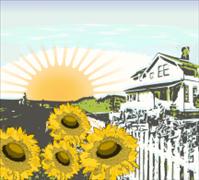 Digital News Report
Digital News Report – There are several reasons for refinancing a home loan mortgage. One is that savings that can occur when you lower your interest rate on a new mortgage loan compared to the existing agreement. The lower mortgage interest rates have been at historic lows making it attractive for homeowners wanting to refinance their mortgage.
Homeowners might be hesitant to refinance because of the time it takes and the hassle of doing more paperwork. There are also extra fees often called points when refinancing that can add to the cost of refinancing. You usually need to have an excellent credit rating and also have some equity in your home.
Another reason to try to refinance an home loan is to move from an adjustable rate mortgage to a fixed rate mortgage loan. This is a great time to lock in a low-fixed interest rate before they go back up again. If you have an adjustable rate interest the monthly payments can fluctuate and when the interest rates go up they can add hundreds to your monthly mortgage payment.
You might have already paid off a mortgage you could cash out some of the equity in your home by taking out a home mortgage loan on it. This isn't really a true refinancing. Some homeowners are taking out a mortgage to buy a second home. Some people may be cashing out some more of their equity in the refinance to pay off some debts that they may have.
Another reason to refinance a home loan mortgage is if they have a second mortgage such as a Home Equity Line of Credit (HELOC). These second mortgages will have adjustable rate mortgages that can be interest only and if you lock in the amount to pay it back the interest rate can be considerably higher. After the initial time period for accessing the HELOC expires, which is usually around ten years. Then the interest rate will lock in at a higher amount. Many people see refinancing there two mortgages into one with a fixed interest rate as a smart move because they worry that interest rates will go up considerably in the years to come. In 1980 to 1983, the mortgage interest rates were ranging from 15% to as high as 18% and even higher. Just because interest rates are at record lows doesn't mean they will be there forever.
The last reason to refinance may be because there was a divorce and you need to remove the ex-spouse from the mortgage loan.
A recent report on ABC's Nightline TV show said that people need to be patient in the refinancing process and that lenders are taking their time in processing the mortgage loans. In their news story, they showed a couple that had to try to refinance three times until they were successful. They said that it isn't uncommon for banks to want to see the same income documents updated throughout the process such as recent bank statements and payments stubs.
Whenever you look for a good deal on a home loan mortgage refinance, you will want to make sure that you understand the costs of each lenders and the terms of the loan that you are looking for. If you can make your current monthly payment with cash to spare you might want to shorten the term of your mortgage loan to 15 or 20 years to repay it. The shorter the loan, the lower the interest rate, but at the same time your minimum monthly payment would be higher than if you got a 30 year fixed rate mortgage.
By: Victoria Brown