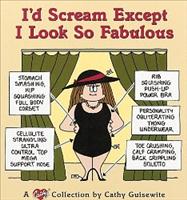 I'D Scream Except I Look So Fabulous: A Cathy Collection [Paperback] – Cathy Guisewite
Digital News Report – Cathy Guisewite, 60, is the creator of the popular comic strip 'Cathy' that has been printed in newspapers nationwide for the last 34 years. The reason for Guisewite's ending the comic strip is that she wants to spend more time with her family and also find some new creative opportunities. The last 'Cathy' comic strip will be printed in newspapers on October 3rd, 2010.
"After almost 34 years of meeting newspaper deadlines," said Guisewite, "I'm facing some personal deadlines whose requirements simply exceed my ability to procrastinate any longer: an 18‐year‐old daughter who needs a full‐time mom to help her through her last year of high school and beyond … beloved parents I want to be able to visit more often … and a creative biological clock, which is urging me to try something else while I can."
The 'Cathy' comic strip was picked up by Universal Uclick syndication services when she submitted her drawings to them. This happened because Guisewite's mother encouraged her to try to be a comic strip creator when she would send drawings of her latest dramas in her life as a single career woman back in the 1970's. The comic was published in November 1976 in newspapers, only seven months after being accepted by Universal Uclick. The 'Cathy' comic strips popularity grew over the years to be printed by 1,400 newspapers.
The 'Cathy' comic strip was made into an animated TV special that aired on CBS in 1987. This special had won an Emmy for "Outstanding Animated Program." Two more animated specials were aired based on the 'Cathy' comic strip.
By: Victoria Brown