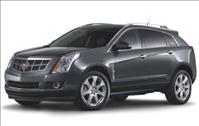 2010 Cadillac SRX model – GM

The Insurance Institute for Highway Safety (IIHS) gave the 2010 Cadillac SRX car the highest rating of "Good" for rollover protection. This along with three other safety tests assessments led to the IIHS naming the SRX models built after May of 2010 to be their Top Safety Pick Award.
The SRX has achieved the status of being good at overall crash protection. The 2010 SRX model has designed safety before, during and after and crash would occur. The body is able to absorb a crash, plus there are rollover-capable head curtain side air bags, and front set pelvic/thorax side air bags. There is also front safety belts that have dual pretensioners. Lastly, the Cadillac also has OnStar service.
SRX winning the IIHS Top Safety Pick Award will further promote the sales of new Cadillac cars. In the month of July, the SRX model had a 783 percent increase since the model was first introduced in 2003.
By: Victoria Brown