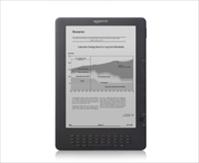 Amazon Kindle – Amazon.com
Digital News Report – Amazon announced the "Your Kindle Commercial Contest" that will award $15,000 in Amazon.com gift cards to the winner. This is the second year that Amazon has held a contest like this to promote the Amazon Kindle. It was very successful last year and this year they are allowing the marketing of the free Kindle software apps as well as the Kindle hardware.
You make a 30-second advertisement that will creatively explain the "Kindle experience" by how it makes you feel. They will judge the commercial entry based on creativity, overall appeal, and how well it will make viewers of the ad want to go out and purchase a Kindle or get the free reading app.
Don't wait too long to put together your advertisement, you have from August 1st, 2010 through September 3rd, 2010 to enter your Amazon Kindle Commercial.
After the entries have been received Amazon's judging panel will be going over the videos from September 4th through September 19th and select five finalists, which includes the Grand Prize winner along with up to four Semi-Finalists.
Then on September 20th, 2010, Amazon will announce who wins the $15,000 Amazon.com Gift Card. The Semi-Finalist Prize winners will each receive a $2,500 Amazon.com Gift Card.
To submit your entry and find out more about the contest, visit www.amazon.com/ykcc.
By: Victoria Brown