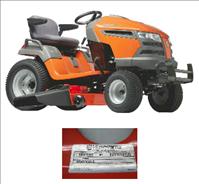 Husqvarna Riding Lawnmower Recall – CPSC
Digital News Report – The CPSC along with Husqvarna Professional Products have announced a voluntary recall of their Husqvarna brand Riding Lawn Tractors due to a risk of a fire hazard. There are around 1,700 of the riding lawn tractors that are involved in this recall.
There has been 53 reports of damaged fuel lines. The fuel line traveling to the rear mounted fuel tank is a problem because it could come in contact with moving parts while using the tractor. This could cause a fire hazard if the line breaks. Currently no injuries have been reported with this recall.
The lawn tractors were made in the USA and were sold at Husqvarna authorized dealers nationwide from January 2010 to May 2010 for around $3,000.
The Husqvarna GTH27V52LS lawn tractor with model number 96043009100 and 96043009900 that have the serial numbers going from 010810A00XXXX through 05061000XXXX are involved in this recall.
The riding lawn tractor should not be used until it has received the free repair to fix the problem. You can contact Husqvarna toll-free at (877) 257-6921 between 8 a.m. and 8 p.m. ET Monday through Friday, and between 8 a.m. and 3 p.m. ET Saturday for more information. You can also visit the manufacturers website at www.husqvarna.us/july2010Alert.
By: Victoria Brown