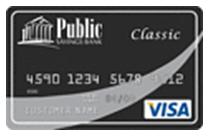 Digital News Report
Digital News Report – There are some new credit card offerings for people with bad credit. These cards are also designed for people with no credit.
We have all seen the Capital One Credit Card and 0 APR credit card commercials, but what if you haven't established credit or have a bad credit score? Last week we talked about cards offered by the Premier Bank. There are other cards available.
The Public Savings Secured Visa® Credit Card has been designed for customers with poor or bad credit. There are no annual or monthly fees and your credit score is "not a factor", according to the company.
The Public Savings card is secured, so customers will need to place a deposit in a bank account. After you purchase something, the funds are transferred from the account to the vendor.
The card can help your credit score. On-time payments are reflected in your credit score. The money is still your money but you are using it to help your credit record. "We report to all 3 major credit bureaus", Public says.
The card offers a zero percent introductory APR and a simple one page application. We do not have any information about balance transfers but their ongoing APR is 11.24%.
By: Tina Brown