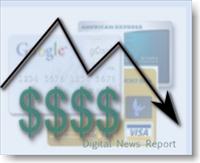 Digital News Report
Digital News Report – More consumers are paying off their credit card debt according to a report from the Federal Reserve. The report saw a decrease in the annual rate of consumer credit by 4 ½ percent in May of 2010. They noticed the revolving credit also declined by an annual rate of 10 ½ percent and there also was a decrease in the non-revolving credit which when down by 1 ½ percent annual rate.
The reason for the faster pay down of credit card debt may be for several reasons. Consumers may have had their minimum monthly payment increased by the credit card companies. This was prompted by the CARD act law which went into effect this year. The new law also has credit card companies plainly tell consumers how much they would pay on their monthly statement. They tell the credit card holder how much in interest they would pay if they only pay the minimum monthly payment until it is paid off. This may have made consumers more aware of the high interest that they are paying each month by paying only the minimum monthly payment.
Another factor that could be contributing to the reduction of credit card balances may be that banks have lowered the credit limits to consumers.
Consumers might have opted for debt consolidation loans which also could have lowered the overall amount of credit card balances. A new loan is taken out often with a lower interest rate to pay off several credit cards.
By: Victoria Brown