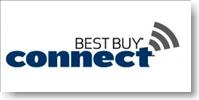 Best Buy Connect Logo – Best Buy
Digital News Report – On July 11th, Best Buy will begin offering their own mobile broadband Internet service called Best Buy Connect. The Best Buy branded Internet service will be using the Sprint 3G network for accessing the Internet.
The plans start out at $29.99 for 250 megabytes of transfer. They have no contract plans, and contract plans depending on what you are most comfortable with.
The Best Buy stores will be able to not only sell the netbook or laptop computer but can have the customer walk out of the store signed up and ready to use their Best Buy mobile broadband Internet service as well.
Best Buy thinks that having a convenient place to go if there are hardware, software, or billing problems will make their service more desirable than their competitors.
Another benefit is that the customers will earn Best Buy Reward Zone points with their Best Buy mobile broadband service. If you participate in the loyalty program you sign up for free and every dollar you earn gets you toward money that you can spend at their stores.
By: Victoria Brown