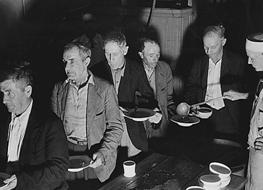 Great Depression Soup Kitchen
Digital News Report – Unemployment benefits have become a political hot-potato and many Senators who supported the last extension of benefits said that would be the last extension. On Friday H.R. 4213 failed to receive the support of 60 senators to move forward.
"I am saddened that people in Hawaii, many of whom have lost their jobs through no fault of their own, must continue to make do without this vital assistance," said Senator Daniel K. Akaka (D-Hawaii).
Just last week economists began revising their assumption that the economy is in recovery. Some believe we could be headed for a double-dip. Manufacturing around the world has slowed but the overall output has expanded. The growth has slowed more than expected.
Pending new home sales fell 30 percent in May. This was expected after the federal tax credit expired. The National Association of Realtors reports that pending home sales plunged 30 percent in May after rising 23% between January and April.
Jobs are hard to find, according to several reports around the country. Unemployment has been near double digits and there is not quick fix. The stimulus package is winding down and Democrats are calling for a new jobs bill.
The Labor Department reports that there were just 83,000 private-sector jobs created last month. Even the broadband Internet project inspired by the stimulus bill only created 5,000 jobs.
"Because of our current economic problems, many families need these unemployment benefits to simply meet their basic household needs while they continue to search for work," Akaka said. "I expect the Senate to continue working to pass an extension soon."
The Senate is expected to pick up the bill again after the 4th of July recess.
By: Tina Brown