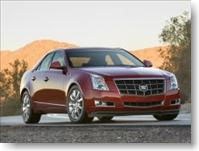 2010 Cadillac CTS Sport Sedan – GM
Digital News Report – GM announced that had an increase of Cadillac vehicles by 39 percent when comparing the June sales numbers to the same month last year. This is the fifth consecutive month that the Cadillac brand has shown sales increases. There was 11,788 Cadillac vehicles sold in the June 2010.
Cadillac had the strongest sales with increases of 50 percent or more in New York, Los Angeles, Dallas, Miami, Atlanta, Tampa, Orlando, and Denver.
There was a 462 percent sales increase in June for the 2010 SRX mid-size luxury crossover vehicle, which had its strongest sales ever for the month of June.
There was an increase of 31 percent to 4,193 of the CTS models which is the best sales for this vehicle for the year so far.
By: Victoria Brown