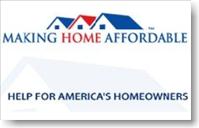 Making Home Affordable Logo – HAMP
Digital News Report – The nice part about the Internet is that you can get access to information about everything, including the government's home loan modification program. But the free help just isn't online, you can also contact HUD approved credit counselors for free to get you the financial help you need to refinance your home loan to an affordable monthly payment. Here is an overview of the free online websites that can offer help to modify your home mortgage through the government's refinance mortgage program.
Makinghomeaffordable.gov website is all about refinancing your home loan mortgage. You can find out if you can participate in the program. There are listed local events announced on this website that will help you to talk with your lender in person and to start the trial modification process. You don't have to attend an event to get your trial modification started.
HopeNow.com is another website with Home Affordable Modification Program (HAMP). This is basically the same as the makinghomeaffordable.gov, but is more user friendly in that this government website has promoted calling the free housing counselors to get you started with the home loan modification process. Hope Now reported that they have completed 3.2 million permanent loan modification since 2007.
On youtube you can go to http://www.youtube.com/user/MakingHomeAffordable where you will find a wealth of videos that produced by the HAMP program. The videos help guide you along the way and teach you what you need to do to step through the process and what some things to avoid doing. The more you know the better your chances are for getting your home loan modification moved to a permanent status.
Being persistent with your lender and also proactive with them is so important during the modification process. Many times people fail to supply the necessary documents to convert the trial modification to a permanent one. If you have trouble getting a hold of your lender, make sure to talk with the free HUD approved housing counselors to help you be successful.
By: Victoria Brown