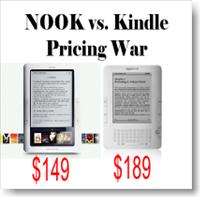 Digital News Report
Digital News Report – The eBook reader marketplace has been heating up for the last couple of months and now Barnes and Noble has their Nook ebook reader for sale at $149 it has made Amazon lower their price of the Kindle eBook reader from $259 down to $189.
The Nook eBook reader has two options for connectivity. NOOK Wi-Fi is for connecting to a Wi-Fi network, which is available in all of their Barnes and Noble retail stores for free, or you can connect to your home network that has a router to the Internet that offers Wi-Fi. For $199 you can have NOOK 3G+WiFi ebook reader which gives both a Free 3G Wireless connection and Wi-Fi Connectivity.
Amazon Kindle comes with free access to the 3G wireless device without any monthly subscription fees or contracts to use the reader. It would make it $10 less than the Barnes and Noble Nook reader if you are looking for the free 3G wireless connectivity.
Barnes and Noble Nook eBook reader is available online at nook.com, at their bookstores, and also now at Best Buy stores. You can purchase the Amazon Kindle eBook reader at amazon.com/kindle and also at Target retail stores nationwide.
Amazon Kindle online bookstore has over 600,000 books to buy and over 1.8 million free out-of-copyright books in digital format are available . Barnes and Nobles have over 1 million titles available with thousands of free books.
By: Victoria Brown