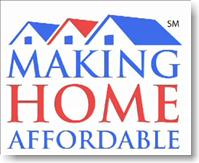 see the video below
Digital News Report – Homeowners that are having trouble paying their monthly mortgage payments might be able to participate in Obama's government home loan modification program called Home Affordable Modification Program (HAMP). The government program helps the homeowner refinance an existing loan to have either a lower principal owed, a lower interest rate, or an extended term loan to help lower the monthly mortgage payments. The payments are determined by your monthly income. After you have been accepted into the program, you first must complete a trial modification also called a Trial Period Plan.
A Trial Period Plan lasts for at least 3 months and begins only after you have been preliminarily qualified for the home loan modification program. Once accepted into the program you begin with a trial modification payments. You have to provide all necessary documents and forms to your mortgage lender, and many people become disqualified during the trial period because they fail to follow through with providing either the necessary payments or the needed paperwork. If you don't provide all the necessary forms and documents required before the end of the trial period plan your loan will not be made permanent and you will not get the lowered monthly payments in the long run. If you are not sure if you have sent all of your paperwork, make sure to contact your lender to see if they need any documents or forms. You also have to make the trial payments in full and on time. Any missed or late payments during the trial period can also disqualify you from having a permanent home loan modification.
You might have a difficult time contacting your mortgage loan service provider or lender. The Making Home Affordable website suggests that you can get free help from a HUD approved housing counselor by calling 1-888-995-4673 and ask for MHA HELP. Check out the HAMP video below on the important items to take care of during the trial modification period in order to have your home loan modification become permanent.
By: Victoria Brown
Your To Do List for a Permanent Modification YouTube Video