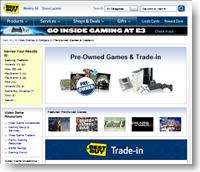 screenshot of BestBuy Video Game Trade-in website
Digital News Report – Video games can collect a lot of dust once they have been played, or maybe it just wasn't the best game ever. Whatever the reason for not using those video games, you can now bring them back to Best Buy stores to get store credit. If you are looking to save a couple of dollars you can also purchase pre-owned video games. Much like the popular GameStop retailer who has built much of their business around selling pre-owned video games, Best Buy will be attracting more customers in the video game market.
The Best Buy video game trade-in program will start in the late summer. You bring in your old previously played video games and they will issue you a Best Buy gift card which can be used to buy anything in the store. Which means anything, of course this also means that video games can be purchased and Best Buy will start to sell the pre-owned video games at Best Buy as well. Best Buy says that their pre-owned games have a store return policy, so you don't have to worry if they don't work because of scratches.
To participate in the Best Buy video game trade-in program you would either go to the Customer Service desk or at a special Trade-In desk in the video gaming section at some store locations. If you can't wait until they implement them in their stores, Best Buy already has a Best Buy Video Game Trade-In Program online. Once you mail in the video games they will send a Best Buy gift card 7-14 days after receiving the video games.
By: Victoria Brown