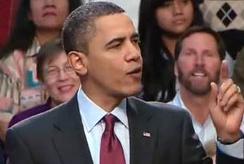 Digital News Report
Digital News Report – The new Obama Loan Modification Program has saved thousands of homes from foreclosure over the past few months. The Making Home Affordable Program (HAMP) is free to the homeowner and there are incentives to the lender to work with the borrower. The United States Government pays the councilors.
Eligibility
The government is now providing a quick set of questions to help determine eligibility.
1) The property needs to be your primary residence. Rental properties can qualify, but the owner must reside in one of the units.
2) The loan amount on the first mortgage must be equal to or less than $729,750. That amount may be higher depending on the number of units.
3) There needs to be a financial hardship. Have you lost your job or taken a cut in pay? Did your adjustable rate mortgage (ARM) adjust upward?
4) The mortgage must have been signed and received before January 1, 2009.
5) The first mortgage, including principal, interest, taxes, insurance and homeowner's association dues must be more than 31% of your current gross income.
If you are uncertain whether you qualify for the program check with a free government approved councilor.
By Tina Brown