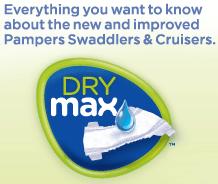 Pampers Website Screenshot
Digital News Report – Pampers Cruiser and Swaddlers with Dry Max technology are being blamed for diaper rashes, blisters and chemical burns. There is even a new lawsuit against Procter and Gamble (P&G) claiming the diapers are harmful to babies. Parents are asking for monetary reimbursement for medical expenses associated with the product's use.
P&G says their diapers are safe and have been thoroughly tested. The complaints began to appear on Facebook after the company changed the design. "For a number of weeks, Pampers has been a subject of growing but completely false rumors fueled by social media that its new Dry Max diaper causes rashes and other skin irritations," Jodi Allen, Vice President for Pampers, said in a statement.
In the old version of the diaper the chemical gel that held in the wetness was poured into the pulp material inside the diaper. Now the company applies the gel directly to the inside of the diaper allowing for a thinner design.
One parent said the chemical odor is so strong that they refuse to put them on her baby. Another parent said their baby never had a diaper rash until Pampers changed the design.
Jodi Allen says the complaints could be the result of social media, and they have tested the Dry Max design on 20,000 babies and 300,000 diapers.
"To date, there have been in excess of two billion diaper changes using the new product, with only a handful of rash complaints, none of which were shown to be caused by the type of materials in our product," Allen said.
"At any given moment, more than 250,000 babies will experience a serious rash… Pampers routinely sees a temporary increase in calls whenever we introduce a modification to our products."
Besides the class action lawsuit the government is investigating the claims. The Consumer Product Safety Commission is looking at the safety of the diaper.
Whether or not the new Pampers are causing more rashes, there is one thing for certain: this has become a PR nightmare for P&G. "Maybe if enough of us join we can get Pampers to give us the good Cruisers back," one customer on Facebook said. "Otherwise we need to find another brand!"
By: Robert Williams