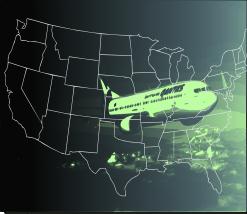 Digital News Report
Digital News Report – Frontier Airlines announced on Friday, the addition of three new nonstop service routes coming out of their Denver hub and one nonstop service coming from their Milwaukee hub. The new routes originating from the Denver hub will travel nonstop to Fairbanks, Alaska (FAI), Grand Rapids, Michigan (GRR), and Long Beach, California (LGB). The new route scheduled to fly out of the Milwaukee hub will travel with nonstop service to Seattle and Tacoma, Washington (SEA).
Frontiers Airlines reports that they offer service to over 70 different destinations. Frontier also said that they will be adding service between Denver going to New Orleans, Louisiana, and also to Santa Barbara, California in the next few weeks. They also have plans to begin routes from Kansas City, Missouri traveling to New Orleans.
The Fairbanks, Alaska route and the Seattle / Tacoma Washington route has been announced for a seasonal schedule for the summer months. The Long Beach and and Grand Rapids are daily flights year round, with some Saturdays and Sundays without flights.