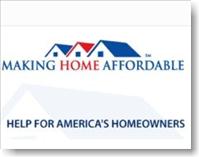 HAMP logo – makinghomeaffordable.gov
Digital News Report – President Obama's home loan modification program has had some changes that will help even more struggling homeowners. The Home Affordable Modification Program (HAMP) is a government run program that allows homeowners and lenders rework existing mortgage loans to have new terms and lower interest rates. The HAMP program has made some changes in April that allows for more flexibility for mortgage lenders and originators to help unemployed homeowners and also to help homeowners who owe more on their mortgage than their home is worth.
The HAMP program hopes with these changes to the program that they will be able to help three to four million homeowners through the end of 2012. The program did get off to a slow start with the lenders admits the government officials, but they say that they have worked on improving the speed and pace of completing the home loan modifications.
The home loan modification program has helped over four million homeowners to refinance their mortgages. In addition to this over one million homeowners are saving on average $500 per month by participating in this program. The government estimates that this mortgage modification program has helped to increase property values by an average of over $13,000 per home during the last three quarters of 2009.
By: Victoria Brown