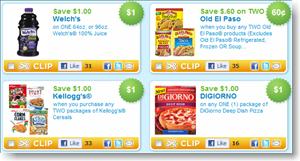 screenshot of printable coupons at coupons.com website
Digital News Report – There is always some satisfaction in saving money when shopping, but there are a new kind of grocery coupon clipper that are being called extreme grocery coupon shoppers. They are taking grocery coupons to a whole new level and are buying there groceries for unbelievable discounts.
With the Internet being added to the grocery coupon game, people have found websites that help them maximize using a grocery store coupon to sometimes get the food for free or next to free. They match up the coupons with the grocery stores close to them with the best buy deals.
They are more organized and will often times collect multiple coupons at stores, online, and in newspapers. If a store will double coupons, this can sometimes make it easier to get a free buy. Other techniques that an extreme grocery shopper will do is to use a store coupon with a manufacturer's coupon on the same item. They often times will buy extra copies of the Sunday newspaper to get multiple coupons.
The extreme grocery coupon shopper will typically be well organized with their coupons. They will have a binder with clear pockets that will hold the coupons. This will make it easy to scan through the coupons and find them without fumbling around with a stockpile of them.
Some extreme grocery store coupon clippers have shared their tips online. Others have held community classes on how to shop with grocery coupons.
If you are looking for a way to save some money, clipping grocery coupons can add up to a sizable savings over a years time.