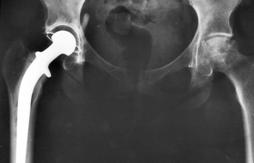 A hip replacement
Digital News Report – Depuy, a subsidiary of Johnson and Johnson, waited too long to pull their ASR hip replacement implant from the market, according to Dr. Stephen Graves, the director of an implant database in Australia.
The U.S. Food and Drug Administration (FDA) fast tracked the approval of the device, according to a report from Lawyers and Settlements.
Originally a manufacture of wood splints in the 1800s, the Indiana company has expanded into other high-tech devices. They make a wide range of products to help patients suffering from skeletal problems. They market products under the brands: Codman, DePuy Mitek, DePuy Orthopaedics and DePuy Spine.
The company recently pulled their hip replacement system from the market, according to Gordon Gibb with L&S. There are questions being raised as to why the FDA fast tracked the system. There were no clinical trials required before the system was approved.
Apparently the metal on metal design is the flaw, according to a report in the New York Times. Barry Meier reported back in March that DePuy had originally claimed that slow sales prompted the phasing-out. The company is now warning doctors that there is a high failure rate, especially in patients with weak bones.
It is uncertain whether the problem is with the surgeons or the system. The company says the cup has to be placed correctly to avoid problems.
The FDA has received 300 complaints since the beginning of 2008 from patients who are using the ASR implant.
By: Jason Chang