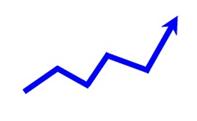 Digital News Report
Digital News Report – Interest rates have been increasing over the past couple months but they are still at historically low levels. Last week rates dipped again slightly.
A Freddy Mac Survey in the United States found the average 30-year fixed rate mortgage (FRM) to be 5.07 percent this week. Compare that to 5.21 percent the week before. The week before that was 5.08 percent.
A Bank Rate survey found an average rate of 5.19 percent Friday for a 30-year fixed rate mortgage. A 15-year mortgage is going for 4.38 percent and a 5/1 Adjustable Rate Mortgage (ARM) had a rate of 3.94 percent.
In China the banks have been told to stop lending to customers for a "third" home. The government has stopped the lending for 3rd-homes in cities with excessive property price gains. They have also suspended lending to buyers unable to provide a tax return or proof of social security contributions.
The government is concerned about excessive price gains similar to the boom which occurred in the United States over the past decade, according to one report.
By: Tina Brown