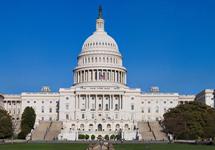 United States Capitol
Digital News Report – The Federal Government offers various programs to help Americans get out of debt. Although recent information suggests that the private debt is declining, in 2003 the Federal Reserve found that Americans were $1.97 trillion in debt.
Government Grants
The American debt includes credit cards, mortgages and other loans. Besides the new programs designed to help homeowners and non-homeowners, there are government grants in the way of social services for those suffering in these tough economic times.
Credit Councilors
The Federal Trade Commission (FTC) is charged with overseeing the credit counseling industry. Besides counseling, they provide information concerning debt consolidation loans, credit card debt consolidation and filing for bankruptcy.
The agency says that "when you're in a hole" contact the creditor first. Collect your records and tell them your situation. Another option is to contact a credit counselor, the agency said.
Bankruptcy
In some instances the credit councilor will recommend filing for bankruptcy. This should be the last resort, according to the FTC. There are negative ramifications to your credit. "In Chapter 13, the court approves a repayment plan that allows you to pay off your debts over a three to five year period, without surrendering any property," the agency said in a statement.
By: Tina Brown