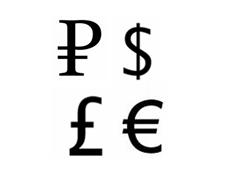 Digital News Report
Digital News Report – The China Yuan is trading near an 11-week high and the dollar continues to slide against other currencies (see chart below). The China customs bureau reports a deficit of $7.24 billion for March but says it is temporary.
The Euro rebounded Monday after last week's agreement between Greece and the European governments and central bank. The Euro improved compared to the dollar from .75 last week to .74 Monday, according to data compiled by Digital News Report. The Euro has risen to the highest value in nearly a month.
The European finance ministers have approved a 30 billion euro ($40.5 billion) rescue package of loans (line of credit). The IMF (International Monetary Fund) is also pledging another 10 billion Euros. The Greek package has not been finalized and some analysts believe the euro shorts will be unwinding in the short term.
The Japanese yen gained strength over the dollar since last week. Bank loans in Japan fell 2.5% in March according to the Bank of Japan data.
By: Tina Brown
| | | | |
| --- | --- | --- | --- |
| Compared to Last Year | | | |
| | 4/13/2009 | 4/12/2010 | % Change |
| Brazilian Real | 2.17 | 1.77 | -18.43 |
| Canadian dollar | 1.23 | 1 | -18.70 |
| China Renminbi | 6.84 | 6.82 | -0.29 |
| European Union Euro | 0.75 | 0.74 | -1.33 |
| Indian Rupee | 49.89 | 44.29 | -11.22 |
| Japanese Yen | 100.32 | 93.43 | -6.87 |
| Mexico Peso | 13.09 | 12.2 | -6.80 |
| South Korean Won | 1,329.50 | 1,118.10 | -15.90 |
| Swiss Franc | 1.14 | 1.07 | -6.14 |
| United Kingdom Pound | 0.68 | 0.65 | -4.41 |
| | | | |
| Compared to Last Week | | | |
| | 4/8/2010 | 4/12/2010 | |
| Brazilian Real | 1.76 | 1.77 | 0.57 |
| Canadian dollar | 1 | 1 | 0.00 |
| China Renminbi | 6.83 | 6.82 | -0.15 |
| European Union Euro | 0.75 | 0.74 | -1.33 |
| Indian Rupee | 44.55 | 44.29 | -0.58 |
| Japanese Yen | 93.66 | 93.43 | -0.25 |
| Mexico Peso | 12.23 | 12.2 | -0.25 |
| South Korean Won | 1,120.73 | 1,118.10 | -0.23 |
| Swiss Franc | 1.07 | 1.07 | 0.00 |
| United Kingdom Pound | 0.66 | 0.65 | -1.52 |