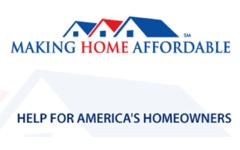 Digital News Report
Digital News Report – President Obama has proposed a program to help thousands of Americans save their home. The Making Home Affordable plan has been around for a while but now the Obama Administration has modified it to help more people.
The HAMP program is designed to help homeowners who have suffered a financial hardship. They may have lost their job, taken a cut in pay or even been furloughed.
The goal is to work with lenders to modify the payments. The lender can receive compensation for modifying the loan.
Here are the requirements for HAMP:
* You will need to be living in your property
* The loan must have been acquired before January 1, 2009
* The balance on the loan must be below $729,750 for a single family residence
* Your loan balance must be in excess of 31 percent of your gross monthly income (pre-tax)
* You will need to document your income with a IRS 4506-T
* You will need to sign and affidavit stating that you are in a financial hardship
The home must be owner occupied. The balance of the loan for a duplex must not exceed $934,200, a triplex $1,129,250 and a 4-unit complex must not exceed $1,403,400.
There are incentives to lenders to modify the loan. The loan modification councilors are paid by the government so you should not be charged anything. The Obama administration says "beware" of anyone trying to charge you for counseling services.
By: Tina Brown