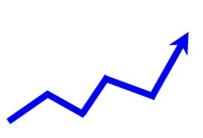 Digital News Report
Digital News Report – Mortgage rates have been falling for three straight days with today's average for a 30-year fixed rate mortgage being 5.18 percent. We added a new index to our survey but even without that index the interest rate was on a decline.
15-year Fixed Rate Mortgages
Earlier this week it was reported that rates had reached a recent high but since then they have been falling. The average rate for a 15-year fixed rate mortgage is 4.51 percent.
Of course rates will vary according to your credit score, income and value of the house.
Adjustable Rate Mortgages
Banks are still writing adjustable rate mortgages. The average we found today for a 5/1 ARM was 3.61.
Jumbo Loans and HELOC
Expect to pay higher rates of interest for jumbo and non-conforming loans, but these rates were moving slightly lower, according to our survey. On Wednesday the average rate for a 30-year fixed rate Jumbo mortgage was 5.96 percent. Today that rate is 5.95 percent.
The rate for a 15-year fixed rate mortgage was 5.51 percent on Wednesday and today that rate is 5.47 percent. The HELOC (home equity line of credit) is 4.08 percent.
By Tina Brown