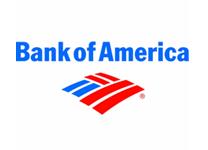 BofA logo
Digital News Report – Bank of America is offering some incentives to keep existing customers and to gain new ones. The corporation has become even more accommodating with their purchase of Merrill Lynch.
Bank of America is pushing their "Keep the Change" program which allows customers who use their BofA check card to keep the change to the nearest dollar. The goal is to help customers save money by transferring the change into their saving account. It is similar to saving the change from your pocket at the end of the day. Making the offer more enticing is their match program. They will match your savings for three months and then add 5% up to $250 per year.
Shares in Bank of America were down .32 percent Friday to 18.59. There was a report that the company, along with Citigroup, Morgan Stanley, and Goldman Sachs lowered their debt levels prior to their earnings reports. This has occurred for the past five quarters, according to the WSJ. Their balance sheets may have appeared less risky than they were.
BofA upgraded shares of Abercrombie & Fitch (ANF) from underperform to neutral Thursday. While weaker than expected same store sales were lower, according to Forbes, the bank now believes the shares to be closer to fair market value.
The Journal also said that BofA topped the list at midday for "buying on weakness". They say that stock fell but had the largest inflow of money. Typically BofA and Citigroup are the NYSE most active stocks.
By: Tina Brown