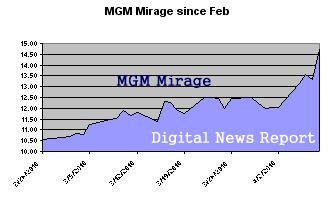 Digital News Report
Digital News Report – The Dow pushed to within 80 points of the 11,000 mark today as gold and energy prices moved lower. Both light sweet crude and natural gas declined in value on the NYMEX (New York Mercantile Exchange).
May crude futures fell 49 cents to settle at $85.39 a barrel. It has declined another 20 cents in after-hours trading.
The Dow Jones Industrial Average closed today at 10,927.07. It was up .27 percent or 29.55 points.
MGM MIRAGE was one of the major movers on the New York Stock Exchange (NYSE). There has been a surge in gambling revenue in part because of Chinese New year revelers. Revenue jumped 33 percent on the Las Vegas Strip in February and was 14 percent higher in all of Nevada. Wynn Resorts Ltd is also benefiting from this upward trend.
Imperial Industries, Inc. Imperial Industries, Inc.'s was delisted today. The NASDAQ suspended the company in January and will now file a Form 25 with the Securities and Exchange Commission to complete the process.
The NASDAQ also said they would delist Commonwealth Biotechnologies, Inc stock. The delisting will be official 10 days after the Form 25 is filed.
By: Tina Brown