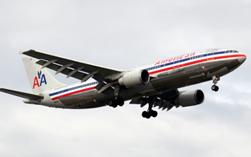 American Airbus A300-600
Digital News Report – American Airlines frequent flier club members can get extra bonus miles on certain transcontinental flights. Customers can earn up to 50,000 bonus miles on nonstop transcontinental routes between New York's John F. Kennedy International Airport and Los Angeles International Airport or San Francisco International Airport.
The company is also offering more flights between Chicago O'Hare and Buffalo, Rochester and Syracuse, New York. They will double their airline miles on those routes from April 6 and June 30, 2010.
There are rumors that the airline may be headed towards a labor strike this summer. Two of the three unions say the employees deserve more money.
Chairman and CEO, Gerard Arpey, said he didn't think the merger of two U.S. rivals posed a threat to AMR. There are talks of a merger between UAL Corp.'s (UAUA) United Airlines and US Airways Group Inc. (LCC). The merger would make American the third largest air carrier.
Today the world's second largest air carrier (AMR) closed at $8.73, up 2.11 percent (.18).
By: Tina Brown